They must have brought me to the wrong room, Kristin thinks. The woman in front of her is gaunt. Her hair is almost gone.
It's been three years since they last saw each other. But from the gaze it's clear that the person in the wheelchair recognizes her best friend.
Janne Mai Lothe Eliassen is unable to walk. She can barely talk. She only manages to produce a single word.
"Kristin," she whispers.
Then they both cry.
Both Janne Mai and her younger brother Ronny Lothe Eliassen were neglected at home whilst growing up. The children lacked food and clothes, and were often absent from school. Even though the child protection services were alerted about potential sexual abuse, the children remained living at home.
Yesterday Bergens Tidende told the brother's and sister's story. A thick pile of letters and reports document how a number of public officials knew about the circumstances. Over the years there were numerous warnings about a family in crisis. They were not vague concerns, but concrete reports about criminal offenses and neglect, and yet the children did not receive the help they needed.
Several people warned about how Janne was getting physically and mentally ill from her domestic situation in her teens. She developed anorexia and bulimia, and tried to take her own life. Still she was not removed from home. Instead she had to be a mother to her five years younger brother, and act as a nurse to her mother.
Throughout her twenties Janne became so ill that she stopped going outside. She lost all contact with the outside world. Her younger brother Ronny was suffering from a serious drug addiction, and would stop by only sporadically. For almost three years Janne lived in near total isolation with her mother in a council flat in Landås.
On 21 June 2000 she doesn't have any more to give. 27 years old, Janne Mai Lothe Eliassen collapses on the floor of their living room, in front of her mother and brother. Ronny goes along with her in the ambulance. He holds his sister's hand, and comforts her. He begs Janne to listen to the doctors. "If you don't get help, you're going to die", he says.
When Janne arrives at Haukeland University Hospital, she is conscious. She explains what has happened.
"27-year-old woman from a problematic family background, admitted due to likely third time fit of cramping. The patient says she has had bulimia for several years and vomits what she eats", the papers state.
The doctors write as follows about Janne: "Woman with very complicated social background, on disability benefits due to mental problems, a lot of alcoholism in the family, but apparently not with her. Not much school."
One day later, just before nine in the evening, a life changing event takes place. Janne is talking to a nurse when suddenly she freezes and falls unconscious. Her lips turn blue.
Shortly after, Ronny receives a phone call from the hospital. "Cardiac arrest", they say.
Ronny rushes to the hospital. His big sister, who has been his surrogate mother and best friend his entire life, is lying on the bed, unconscious. She is connected to a respirator; the mask covers her entire face. There are tubes everywhere. Janne is in a coma for several weeks.
"It's the most fucked up thing that's ever happened to me.

It hit me:

Now I'm all alone.

All I had left was getting high."

Ronny, 2013
When Janne wakes up again after several weeks in a coma, her doctors conclude:
"Extensive brain damage. She has paralysis and problems controlling movement", her journal reads. A speech therapist evaluates Janne's ability to communicate.
"Cried, had no speech. She gave good eye contact, and was able to blink. She cried a lot when she received attention".
All her life Janne has cared for her younger brother and her ill mother. Now Janne is the one in need of round-the-clock care. She is placed in the Living Collective, a department for young disabled people at Midtbygda nursing home.
Over the next thirteen years, only two people will come to visit Janne on a regular basis.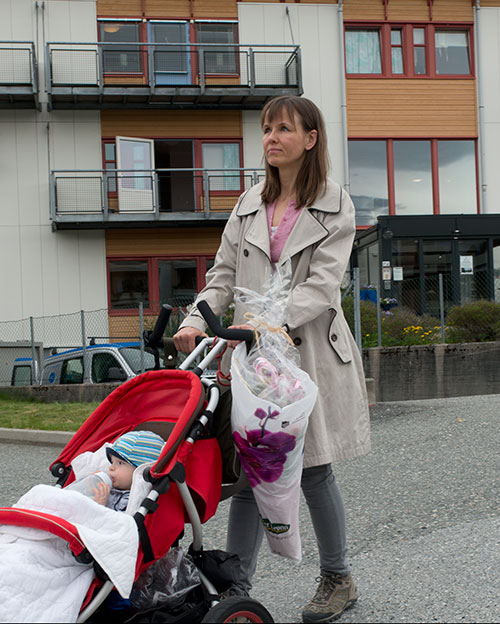 Kristin Tømmervaag, Janne's best friend through her entire childhood, is staring at the screen of her mobile phone. There are twenty-eight lost calls from the same number. Kristin calls back. Right away she can tell that the person answering is drunk.
"Janne is so ill, she's in a home."
Janne's mother slurs, but manages to get across that her daughter is in a nursing home in Åsane.
Kristin doesn't understand anything. Why on earth is Janne there? She is only 27.
The mother also calls her cousin Dagmar Løndal. It has been years since they last spoke.
"Janne has been molested. By her step-father," says Janne's mother. Then she hangs up.
Kristin sorts through old photo albums, letters and postcards. She looks at the trips to the log cabin, the parties, the fits of laughter and the hair-dos. She enters all the material into her computer, and makes a 54-page presentation. "Janne and I" is the title.